Monitor and maintain your fire safety compliance data for all your passive fire assets.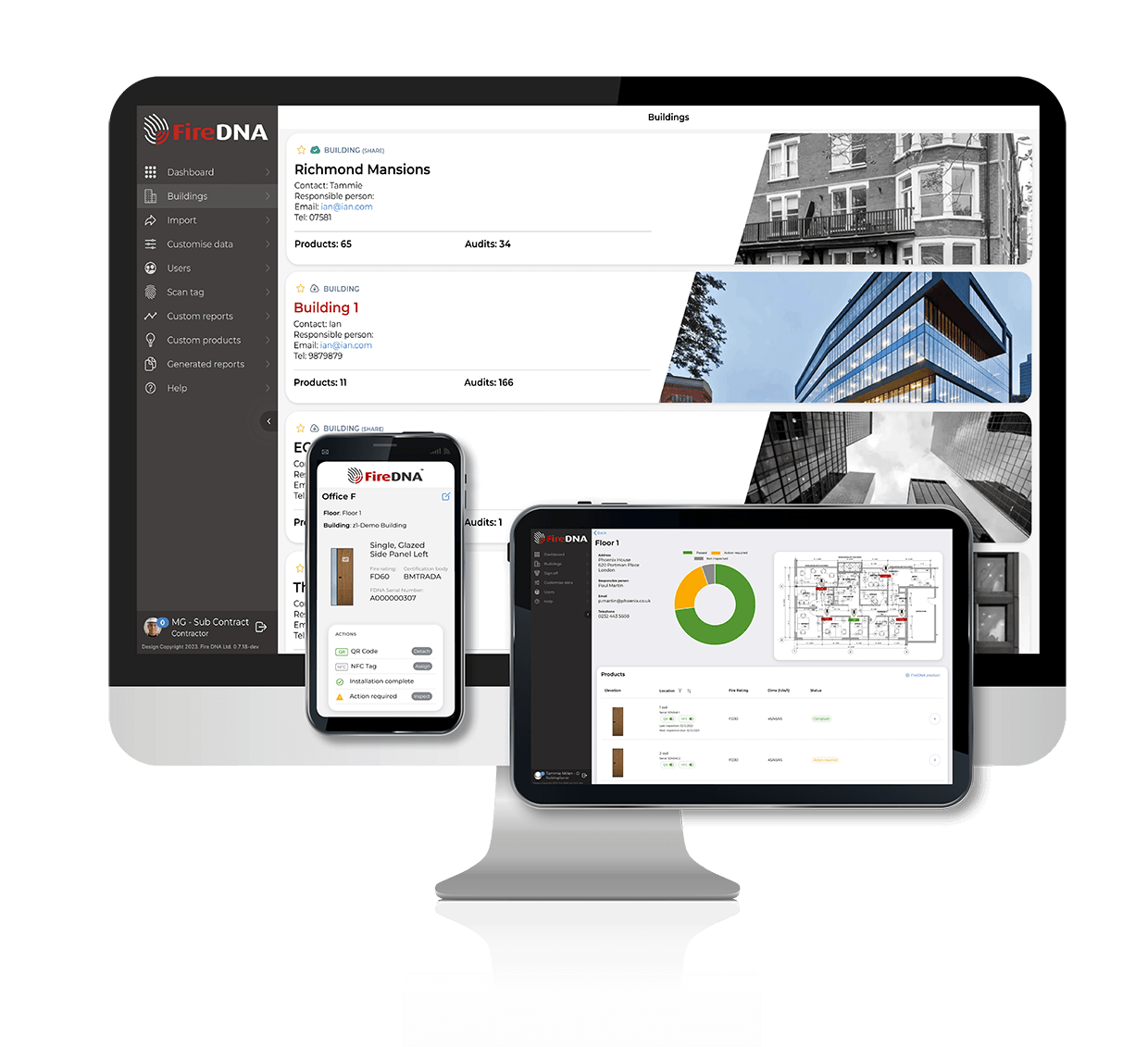 FireDNA connects people with products, tasks and responsibilities…
MANUFACTURERS & SUPPLIERS
Share critical digital data to ensure compliant installation and maintenance of your products:
Third party certification
Installation guidance
Permitted onsite repairs and adjustments
Digitised operating & mainenance manuals
Full product specification
Your digital records act as a 'sleeping salesperson' by encouraging  reorders & replacements.
CONTRACTORS, INSPECTORS & SERVICE PROVIDERS
Document and date stamp all of your passive fire installations, inspections and remediation works:
Proving alignment to manufacturers guidelines
Backed with supporting photography
Centralised for team data sharing
Full offline functionality
Branded reports created in seconds
Protecting your liability by demonstrating compliance and competency while saving you time and cost.
BUILDING OWNERS, TENNANTS & RESIDENTS
Share, control and maintain the fire safety compliance information on your passive fire products: 
Oversee  and manage remediation and maintenance activities
Provide fire status with residents and tenants
Ensure regulatory compliance is maintained
Centralises your digital O&M manual
Proving you are meeting your legal obligations as a 'responsible person'.
FireDNA

is the professionals' choice because of our unrivalled:
Breadth and depth of our data capture
Range and speed of reporting tools
Ease of data sharing and integration options
Full traceability and action logs
Data structure and security
Support and service levels
FIND OUT MORE ABOUT HOW WE CAN ASSIST YOU WITH YOUR FIRE SAFETY AND COMPLIANCE DATA
THE DIGITAL 'GOLDEN THREAD OF DATA'
The FireDNA passive fire product monitoring app catalogues Manufacturers' product data, digitally shares it with Contractors and Installers, who in turn add their installation data, passing that onto Building Owners, Facility Managers & Tenant Management Organisations. This crucial data can then be used by Maintenance Teams and Fire Inspectors to monitor passive fire products that prevent the spread of fire. Tenants and residents can also access the data for peace of mind. With a simple swipe of a smartphone, users have this golden thread of data to hand.
Ensure transparency in the chain of fire protection. From product installation to monitoring, the FireDNA app simplifies the process. 
The UK construction app that helps you deliver and manage compliant passive fire products
FireDNA is a cloud based app, that uses the latest mobile and RFID technology. Developed in collaboration with Manufacturers, Contractors/Installers, Fire Inspectors and Insurer's, to deliver passive fire product safety, compliance, accountability and traceability.
Our system can be fitted to:
Pre-installed passive fire products
During new fit-out or replacement
Fire doors
Windows
Fire and smoke control assemblies
FireDNA has been developed to monitor the
full passive fire protection product mix.

Track projects off-site, completely convenient to your schedule.

Our software is crucial

to support

full

active and passive

fire

protection

 s

trategies

.

 
FireDNAs passive fire protection software and tagging can be applied to all passive fire products within the built environment. But, as the graph shows Fire Doors are a key component in the fire safety strategy. Our Fire Door tracking module is available now, other modules will be released in the coming months…
FireDNA is the professional's choice, developed in collaboration with Passive Fire Product Manufacturers, Installation Contractors and Qualified Fire Door Inspectors. Accessing this data is an important factor of a fire rating. Our software assists in determining how fire resistant a passive fire protection system is. Audit issues with the systems and improve fire safety. The FireDNA user benefits are numerous including:
24/7 ACCESSIBILITY
A system fully accessible worldwide
TIME & COST SAVING
Fully paperless recording and auditing
TOTALLY SECURE
Secure cloud system with daily back-ups
REDUCED RISK
Helps with compliance and insurance evaluations
SINGLE OR MULTIPLE LOCATIONS
Up-to-the-minute data in a centralised repository
REDUCED LIABILITY
Gives greater protection and can reduce liability
Join the FireDNA Network Alliance and become a Data Partner today…
FireDNA allows Contractors and Installers to document and date stamp passive fire product installations. Sign-up today and you'll be able to input/access manufacturer's product 'DNA' data: installation guidelines and specifications. This will enable you to ensure that the product supplied was as specified. It also confirms that your assigned installers have been able to fit the product to the manufacturer's installation instructions. 
The more passive fire products you activate with FireDNA, the more benefits and rewards you could receive!'
FireDNA offers so many benefits to all users in one simple,
easy-to-use App.

Start your free trial today to streamline your passive fire protection

systems today.

 
Chat with one of our experts today to get started
"Getting fire safety right calls not only for smart design but the right products and correct specifications, for which collaboration is critical." Architects Journal (AJ) have this month launched their new 'Fire & Insulation' supplement, packed with articles and...
Against the backdrop of some of the most significant legislation to affect the construction industry in decades, is technology helping us to build better, more sustainably and safer? Does construction lag behind other industries in its adoption of digital ways of...